Mountain Classic Rock
and Local Folks
A Voice for the US Highway 285 Corridor
Conifer, Colorado 80433
Elevation 8,227 ft.
Conifer Podcast

presents

: The Voices from Elevation Celebration

this Wednesday at 5 pm!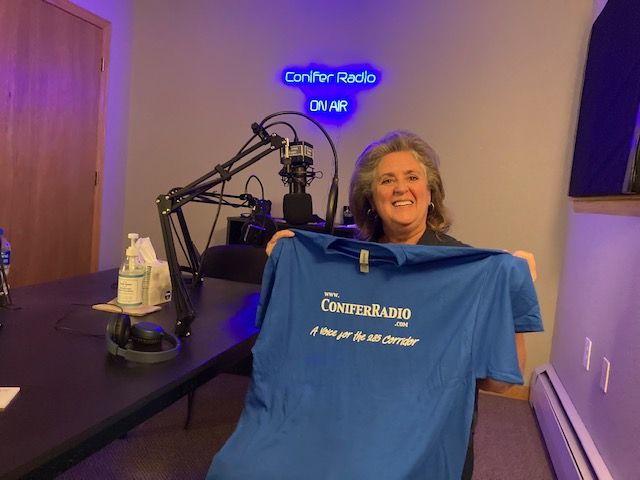 Conifer Podcast
continues this Wednesday at 5 pm on Conifer Radio. We feature many of the 'voices' of our community, who will be featured on this weekly expose of our local folks. At Elevation Celebration, we were 'roving reporters' on Sutton Street and visited with many of our Conifer area residents and business owners and their interviews are being featured on
Conifer Podcast
this Wednesday, August 3 at 5 pm. We also want to celebrate that we finally have T-shirts. Write us at ConiferRadio@gmail.com if you'd like one. Our Thanks to our local Denise Bromberger (recognized in the above photo in Studio 308) who produced these from her locally-based business: Image Marketing Specialists
Denise Bromberger, MAS
Bailey, Colorado
303.838.3328
denise@shopimagemarketing.com
To learn more about Conifer Radio, please click here:
Conifer Radio introduces our new local music director, Mr. Chris Stevens. He will present a weekly Podcast expose of local-area musical artists and groups on "

Mountain Drive Live

" Wednesdays - Saturdays at 5:30 pm
Conifer Radio is pleased to announce the addition of Mr. Chris Stevens as our new Local Music Director. In addition, Chris is hosting a new show called, "Mountain Drive Live" where he will be featuring weekly a Podcast of our local-area musical artists and groups performing at local bars, clubs theatres and mountain-area venues each Wednesday, Thursday Friday and Saturday at 5:30 pm
Plan to log-in Wednesday - Saturday at 5:30 pm on ConiferRadio.com
Please call 303-634-6995 or send an email to ConiferRadio@gmail.com if you'd like to participate or learn more.
Tune in to 2 for Tuesdays, Yesterdays Hits

! Each Tuesday from 1:00 - 6:30 pm Sponsored by Journey Roofing
Conifer Radio is please to feature Tom and Becky Ross of Journey Roofing who put together a collage of Mountain Classic Rock Hits to bring back the memories of your journey each and every Tuesday afternoon!
Conifer Radio's July-August Programming Guide
In addition to serving up our 24/7
Mountain Classic Rock
, ...here is some of what Conifer Radio features each week:
The Daddy's Homemade Community Events Report
presented
each morning at 7:00 am and 10:00 am
on
Coffee on the Corridor
.
Paul Vastola of Southern View Sound and Music presents:
Studio V
each Monday at 7 pm
Susie Knight, our local Saddlebag Lady presents:
The Western Way Hour
each Tuesday at 7 pm
Journey Roofing presents:
2 for Tuesday's Yesterdays Hits
each Tuesday from 1:00 pm – 6:00 pm
Chris Stevens our Local Music Director presents:
Mountain Drive Live
each Wednesday, Thursday, Friday and Saturday at 5:30 pm
Conifer Radio presents:
Conifer Podcast
featuring local organizations and folks
each Wednesday at 5:00 pm
Wyatt Yates of Rugged Financial presents:
Financial Fitness for Business and Life
each Thursday at 7:00 pm
Conifer High School Student Radio presents:
Lobo Life Radio
every Thursday at 5:00 pm and repeating the following Saturday at 9:30 am
Conifer Radio announces our new "Studio 308" This is an interim radio station studio for local community podcasts
Studio 308 is available here locally in Conifer and available to our mountain area nonprofits and other local community groups – for free – for the recording of local podcasts and other community announcements. Studio 308 is equipped with everything necessary for the successful audio recording and at the time-frames during the week convenient for your organization and team - and we can help. Located at 26267 Conifer Road in the heart of Conifer, Colorado - on the third floor of the Tall Country Building. Please call 303-634-6995 or send an email to ConiferRadio@gmail.com to learn more.
Conifer Radio encourages you to join us! As an all-volunteer community station, there are several roles to 'join in' on the fun.
Conifer Radio is the streaming internet community
non-political
radio voice for our US Highway 285 Corridor and mountain communities. Conifer Radio serves the US 285 corridor communities of Conifer, Aspen Park, Pine, Bailey and our other surrounding communities extending along and branching from the US 285 corridor from Indian Hills through Kenosha Pass, Colorado. For Volunteer Opportunities, click to the "Join Us" menu item and to our Volunteer page on this website.
Volunteer Opportunities are available for local residents, businesses and nonprofit organizations. Produce and donate your Podcast and have your story live-streamed on
Conifer Podcast
.
Support Community live-stream Radio...
Conifer Radio, as a community radio station, relies on the financial support of businesses and organizations who believe in the value of a voice for the Conifer and Highway 285 corridor. In return for your financial underwriting support, your organization will receive regular 'professional recognitions' during the broadcast week.
Be Recognized on Conifer Radio!
Please click to contact us or send an email to ConiferRadio@gmail.com to request our
Underwriting Supporter Packet.
Recognizing our Founding Supporters
Conifer Radio recognizes its Founding Supporters who stood behind the community radio station concept prior to and during the pandemic of 2020. These community leaders remain active supporters of Conifer Radio.