Free: Public Service Announcements PSA's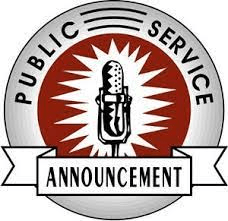 How to submit a request to have your "Public Service Announcement (PSA) live-streamed on Conifer Radio
Non-profit organizations and community organizations may "get the word out for free" on Conifer Radio.
Conifer Radio, as a US Highway 285 corridor community station, was developed purposefully to deliver community content and to communicate on the behalf of our area nonprofit organizations.
Please follow our Conifer Radio PSA Guidelines and Authorization:
• The content of PSA's or other underwriting credit announcements are crafted cooperatively by Conifer Radio and each community organization and authorized prior to airing (live-streaming) broadcast.
• Announcements will be approximately 60 seconds or less, and Conifer Radio reserves the right to accept or decline any announcement.
Public Service Announcements may include:
• Supporter's name, location, phone number, business hours, web site, etc.
• Up to 3 factual, value‐neutral descriptions of the Supporter's business, events, needs or services.
• Identification of services, products, or brand names (without using qualitative or comparative language)
• Slogans or marketing themes that factually identify (but do not overly promote) the Underwriting Supporter
Complete your PSA Online - (or send us an email request from the link below)
Please input your PSA responses to the following information-fields, and you'll create a PSA for Conifer Radio to upload:
Or...simply Email to request our PSA Form:
With the form, please complete, sign, scan and return your PSA via email to ConiferRadio@gmail.com.